Our House ...
the Ensemble of a former farmhouse with pup, which is open for events like birthdayparties or weddings, was extended by a hotel with 9 bright and spacious doublerooms in countrystile. Architecture is similar to existing building and fits into the historical heart of Seukendorf. The ground floor of the hotel is designed for people with physical handicap. The new building was designed as a KfW Effizienzhaus 55, so the primary energy consumption is less than 45 % of existing building regulations. For their stay, guests will find a modern building related to a countryside charme in the historical centre of Seukendorf.
Initiation 2017 Events
feeling yourself at home ... is our slogan.
9 doublerooms with a clothes closet are furnished in a modern country style and providing, in a natural siberian spruce decor, relaxation and a cosy atmosphere. Beds can be pushed apart, so it is possible to change the double room into a twin room. In terms of darkening, rooms are equipped with electrical roller blinds. An central air-handling system provides hygenical clean and fresh air in every guestroom and shared spaces. Heating of guestrooms and bath is provided by an underfloor heating and additional radiators in the bathrooms.
service and prices ( apart of fairs )
| | | |
| --- | --- | --- |
| double room: | | starting from 98,- € per day incl. VAT |
| double room as a single room: | | starting from 75,- € per day incl. VAT |
You can pay as follows:
cash or Girocard ( EC ), Mastercard and Visacard.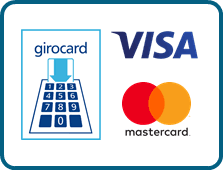 All guest rooms are equipped with TV, hairdryer and WLAN
Included is a generous breakfast buffet and you can use parking lots close to the hotel or a shuttle service on demand.
At the ground floor there is a barrier-free, handicap-accessible guest room with bath.
IMPRESSUM
Angela und Hans Lämmermann
Langenzenner Str. 6
D-90556 Seukendorf
Email: info@alterhoflämmermann.de
Tel.: +49 911 76 61 68 34
Finanzamt Fürth/Bay. USt-IdNr.: 218/191/30431
Verantwortlich für den Inhalt: Angela und Hans Lämmermann
Gerichtsstand: Amtsgericht Fürth/Bay.
Alle Rechte liegen bei Angela und Hans Lämmermann.
Datenschutzverordnung
Haftungshinweis: Trotz sorgfältiger inhaltlicher Kontrolle übernehmen wir keine Haftung für die Inhalte externer Links. Für den Inhalt der verlinkten Seiten sind ausschließlich deren Betreiber verantwortlich.
Copyright © 2016 - 2021 by Angela und Hans Lämmermann Alle Rechte vorbehalten. - Langenzenner Str. 6, 90556 Seukendorf - Tel.:+49 911 76 61 68 34